Echoes of Home: The Crimeans' Journey of Resilience - Instytut Pileckiego
}
23.08.2023 (Wed) 19:00
Echoes of Home: The Crimeans' Journey of Resilience
Exhibition Premiere with a Discussion Panel "Echoes of Home: The Crimeans' Journey of Resilience"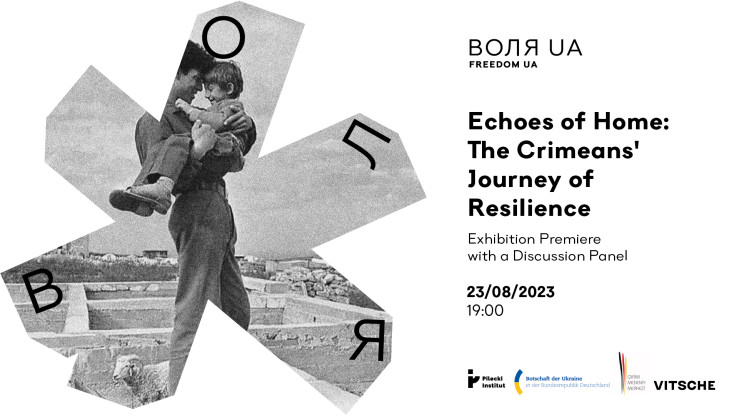 The Crimeans' Journey of Resilience" (Program Воля UA)
23.08, 19.00 | Pariser Platz 4A, 10117 Berlin | Registration: https://forms.gle/dLFecbBVmzh4ngbA6
On August 23th at 19:00, together with Crimean Cultural Center in Germany, "KERMEN," cordially invites visitors to the opening of an exhibition by photographer Rifhat Yakupov. His photographs capture the moments of the Crimeans' (Crimean tatars') return to their homeland in Crimea after the Stalinist deportation in 1944.
Following the forced expulsion in 1944, Crimeans (Crimean tatars) lived in exile for half a century, yearning for the opportunity to raise their children in their native land. However, returning to their homeland was strictly prohibited. Those who defied this prohibition faced persecution, trials, imprisonment, demolition of their homes, and were forcibly removed from Crimea along with their children.
Rifhat Yakupov's works capture the moments of the mid-1990s and early 2000s—a period marked by a resurgence of hope. During this time, pickets and tent cities were organized in Crimea, and temporary housing was established. The chronicles of these tragic yet life-affirming times come alive through the lens of this talented photojournalist. Additionally, the exhibition opening will feature the premiere of a documentary short film titled "I record the Wind…" by Ernes Sarykhalil, shedding light on the photographer himself and the process behind his evocative photographs.
As history has shown us, these attempts to reclaim a free home were not the last. Since 2014, after russia occupied Crimea, the Crimeans (Crimean tatars) have once again faced the difficult choice between returning to their homeland or seeking freedom elsewhere. During a discussion led by Elvis Cholpukh from the Crimean Cultural Center "KERMEN," we will explore the ways in which a new generation of Crimeans (Crimean tatars) has been compelled to leave their homes again in the 21st century.