Imagining OpenMuzej Belarus: community, contemporary art, engagement - Instytut Pileckiego
}
19.06.2023 (Mon) 10:00
Imagining OpenMuzej Belarus: community, contemporary art, engagement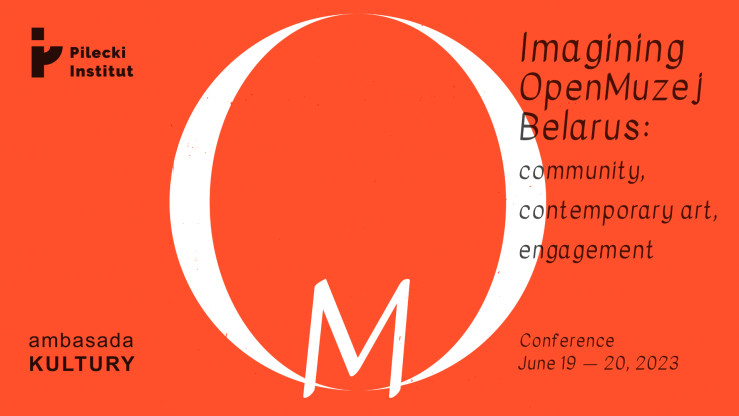 Imagining OpenMuzej Belarus: community, contemporary art, engagement
Conference 19.06 + 20.06 | Pariser Platz 4A, 10117 Berlin | Register here: https://forms.gle/GwgY95vCabccxm6p6
See full schedule down below.
Since 2022, a team of experts and professionals in the field of contemporary Belarusian art and culture have been working on the idea of establishing a public museum focused on research, archiving, preservation, support, development, demonstration and popularization of contemporary art of Belarus.
Perceiving museum as a process and a community, as a joint experience of practicing public history and a way of understanding the world as well as respecting art/culture as a right of every person the team sees and develops the OpenMuzej (OM) as a nomadic infrastructure.
The activity of The OpenMuzej addresses wides audiences and adheres to the principles of openness, mutual responsibility, interdisciplinarity, innovation based on the initiation and joint implementation of research, exhibition, educational and popularization projects with the involvement of Belarusian cultural actors – both in Belarus and in forced emigration.
On June 19-20 with support from Pilecki Institut Berlin we will organize a 2 days conference in order to discuss the role of museums as a place of community building and consolidation of the professional community and wide audiences.
Core audience: Belarusian and foreign experts in the field of contemporary art and culture, representatives of international culture institutes and culture policy decision makers.
Info partners: Kalektar.org, RAZAM e.V. - Belarusische Gemeinschaft, NGO EcoHome
---
Schedule:
Day 1: OpenMuzej – from a Classical Museum to a Flexible Nomadic Structure
June 19, 2023 / 10:00–16:00
10:00–10:15
Opening speech by the director of the Berlin Branch of the Pilecki Institut Hanna Radziejowska
10:15-10:45
Intro
"Understanding the Museum: How and Why Museums are Changing Nowadays. Forms, Formats, Values"
Speaker:
Irina Kondratenko, art researcher, curator
10:45–11:30
Presentation of the OpenMuzej project idea and results of survey of Belarusian art community
"OpenMuzej as an Opportunity to Strengthen the Community"
Speakers:
Irina Kondratenko, art researcher, curator
Anna Chistoserdova, art manager, Ambassada Kultury
11:30–11:45
Coffee break
11:45–13:30
Discussion
"The Museum as a Structure that Embraces Community and Radiates Solidarity and Support"
Moderator:
Oksana Karpovets, independent curator, art researcher
Speakers:
Dr. Annette Maechtel, managing director NGBK
Maria Beburia, contributor of MSN, co-founder CC Slonecznik
Aleksei Borisionok, independent curator and researcher
13:30–14:30
Break
14:30–16:00
Discussion
"Solidarity, Horizontality, Communities: Cultural Projects in Belarus"
Moderator:
Tony Lashden, queer activist, writer, researcher
Speakers:
Antonina Stebur, independent curator, researcher
Olga Shparaga, Philosopher
eeefff group (Dzina Zhuk and Nicolay Spesivtsev, artists)
Rufina Bazlova, artist
---
Day 2
June 20, 2023 / 10:00–13:30
What Kind of Support for Independent Belarusian Cultural Initiatives is Available and Needed?
10:00–10:30
Intro
Flexible Communities, Flexible Support
Speaker:
Tony Lashden, queer activist, writer, researcher
10:30–10:45
Short presentation of the OpenMuzej project idea and summary of 1st day of the conference
Speaker:
Anna Chistoserdova, art manager, Ambasada Kultury
10:45–11:00
Short presentation
Belarusian Diaspora in Germany
Speaker:
Yuliya Salauyova, 1 Chair RAZAM e.V.
11:00–11:15
Short presentation
Support of Belarusian Culture
Speaker:
Alina Koushik, Representative for National Revival, the United Transitional Cabinet of Belarus
11:15–11:30
Coffee break
11:30–13:30
Discussion with the participation of representatives of foundations and international programs
International Support for Initiatives and Projects of Independent Belarusian Culture
Moderator:
Hanna Radziejowska, director of the Pilecki Institut