The Kyiv Independent presents: "Uprooted" - Instytut Pileckiego
}
12.09.2023 (Tue) 19:00
The Kyiv Independent presents: "Uprooted"
An investigative documentary into the forced deportation of Ukrainian children from Russian-occupied Mariupol.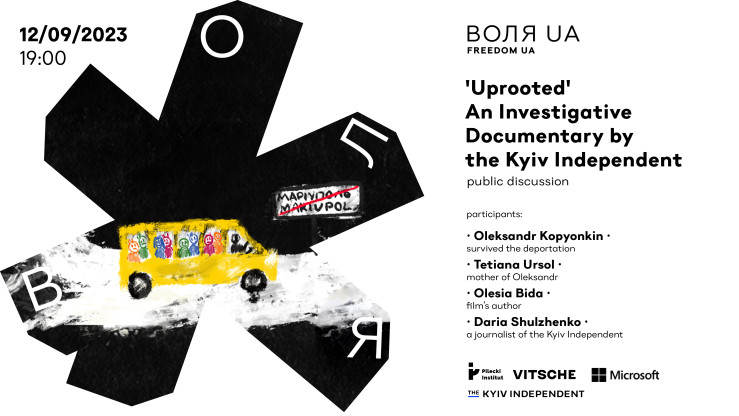 The Kyiv Independent presents "Uprooted" — an investigative documentary into the forced deportation of Ukrainian children from Russian-occupied Mariupol.
12.09, 19.00 | Pariser Platz 4A, 10117 Berlin | Registration: https://forms.gle/L1dZWTcHUDwYnDXv8
Movie Screening + Public Discussion
Participants:
- Oleksandr Kopyonkin is the subject of the investigative documentary Uprooted, experienced deportation. During the active battles for Mariupol, Oleksandr, his younger sister and brother were left alone in the city.
- Tetiana Ursol - mother of Oleksander, was on military service at the time.
- Olesia Bida -
a journalist of the War Crime Unit and director of the film Children for Putin.
- Daria Shulzhenko - a journalist of the Kyiv Independent
Moderator:
Emmanuelle Chaze
A few months ago, the Kyiv Independent, Ukraine's prominent English-language media outlet, launched a War Crimes Unit to produce investigative documentaries about Russian war crimes in Ukraine. Now the team released their first film, "Uprooted." The documentary, authored by journalist Olesia Bida and directed by Vitalii Havura, uncovers the inner workings of the forced deportation of Ukrainian children to Russia and the occupied territories of Ukraine. The film tells the story of a group of children known as "Group 31" who were taken to Russia from now-occupied Mariupol in May of last year and have not yet been able to return. Among them is Pylyp Holovnya, who was taken into the family of Maria Lvova-Belova, the presidential commissioner for children's rights in Russia. Families have been risking their lives to bring their children back. Some of the children want to return to Ukraine but are unable to do so. "Ivan simply burst into tears over the phone and begged, 'Anton Viktorovich, I am begging you, take us from here.' Of course, after hearing those words, I had to go. I understood the risk," said Anton Bilay, the guardian of two boys from Mariupol, who risked traveling deep into occupied territories to recover his wards after they had been taken by Russians. According to official data, since Feb. 24, 2022, around 20,000 children have been kidnapped by Russia. Human rights activists believe the actual number could be much higher.
After the documentary premier "Uprooted" on 12th September at 19 o'clock, we will have a chance to speak not just with the creators of the movies but also with the main character, who has faced deportation from russian-occupied Mariupol.
In mid-March, Oleksandr was injured. That's why his family's friends had to send him to Donetsk Children's Hospital to save his life. However, it turned out to be a problem for his relatives to take Oleksandr from Donetsk for treatment abroad.