Shifting concepts, shifting perceptions. The East and the West in 2022: an outdated dichotomy? - Instytut Pileckiego
}
20.10.2022 () 18:00
Shifting concepts, shifting perceptions. The East and the West in 2022: an outdated dichotomy?
Nächste Woche startet die vierte Edition von Exercising Modernity. Auch zwei offene Veranstaltungen für alle sind dabei. Die erste findet am 20.10 statt.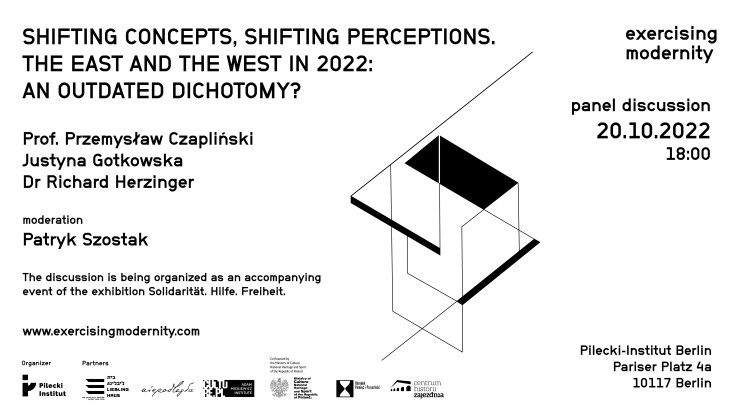 The fourth of edition of Exercising Modernity - this time entitled "Exercising [Eastern] Modernity" - is raring to go: definitely check out the first of our two open events!
Shifting concepts, shifting perceptions. The East and the West in 2022: an outdated dichotomy?
This panel discussion is part of an event series accompanying the exhibition "Solidarity. Aid. Freedom"
(https://berlin.instytutpileckiego.pl/.../berlin/solidarnosc)
20.10, 18.00 | Panel Discussion in English | Pariser Platz 4A, 10117 Berlin
Register here: https://forms.gle/tPzoYVB1ktA3rpcn6
Panelists:
Przemysław Czapliński
Justyna Gotkowska
Richard Herzinger
Moderation: Patryk Szostak
Organizers: Pilecki-Institut Berlin, Adam Mickiewicz Institute, Liebling House - The White City Center
Larry Wolf famously claimed that the notions of "Western Europe'' and "Eastern Europe" came into being as the result of a deliberate "work of cultural construction and intellectual artifice". Eastern Europe was thought of as the "other", as Europe's no man's land and backwater, which either ought to become civilized or be kept at bay.
As Manfred Hildermeier points out, however, Russia by then had already internalized its own version of this dichotomy. Either demonizing or occasionally idealizing the so-called West, it never proved capable of shaping its own structurally independent identity
The cultural richness and variety of Central and Eastern Europe were among the first casualties of painting Europe´s cognitive map with too broad a brush. 2022´s biggest analytical blunder - the widely shared prediction that Kyiv will fall to Russia in 48 hours - indicates that our understanding of the region still leaves a lot to be desired.
The latter raises a number of questions about the validity of the concepts of Eastern Europe / Western Europe and whether they give justice to centuries-long alternations of borders, identities and communities.
---
Panelists: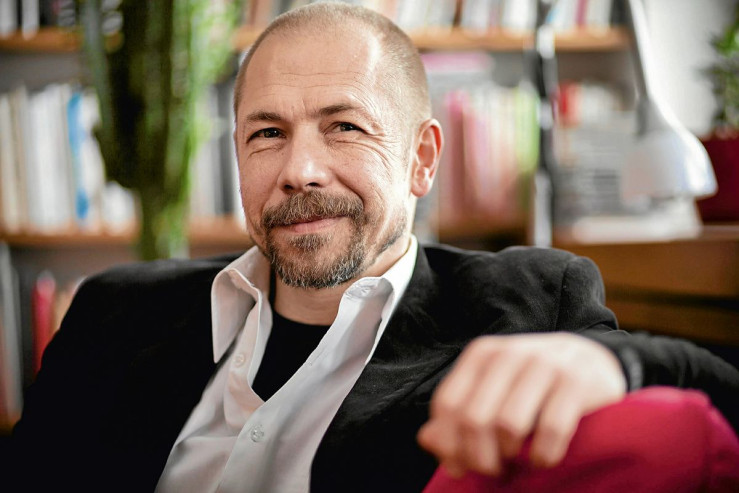 Prof. Przemysław Czapliński - historian of Polish and European literature, essayist, translator, literary critic, co-founder of the Department of Anthropology of Literature (Adam Mickiewicz University in Poznan, Poland), member of Polish Academy of Sciences as well as a director of Center for Open Humanities. Author of numerous books - most recently: Polska do wymiany. Późna nowoczesność i nasze wielkie narracje [Poland for exchange. Late modernity and our grand narratives] (Warsaw, 2009), The Remnants of Modernity. Two Essays on Sarmatism and Utopia (Frankfurt am Main 2015), Poruszona mapa. Wyobraźnia geograficzno-kulturowa polskiej literatury przełomu XX i XXI wieku [The Shifted Map. Geo-cultural Imagery of Polish Literature at the turn of 20th and 21st century] (Kraków 2016). Visiting professor in Heidelberg (2015) and in Mainz (2020) and visiting lecturer, among others, at Berlin's Humboldt University, Harvard University in Boston and Université Libre in Brussels. The main subject of his interests is the confrontation of literature with modernity and the resulting problems: the conflict of modernization and tradition, modern violence (war, camps, the Holocaust) as a tool for the reconstruction of man and society, the disappearance and return of utopia as a result of the crisis of designing the future.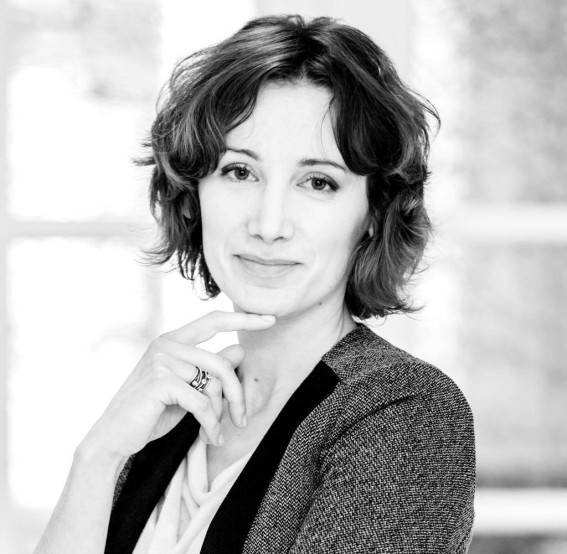 Justyna Gotkowska is coordinator of the project "Security and Defense in Northern Europe" at the Center for Eastern Studies (OSW). She graduated from University of Warsaw and RWTH Aachen University. She has been working at the Center for Eastern Studies since 2008. There she first worked as an analyst in cooperation with the German team on the foreign and security policy of the FRG. She has been leading the independent project Security and Defense in Northern Europe since 2013.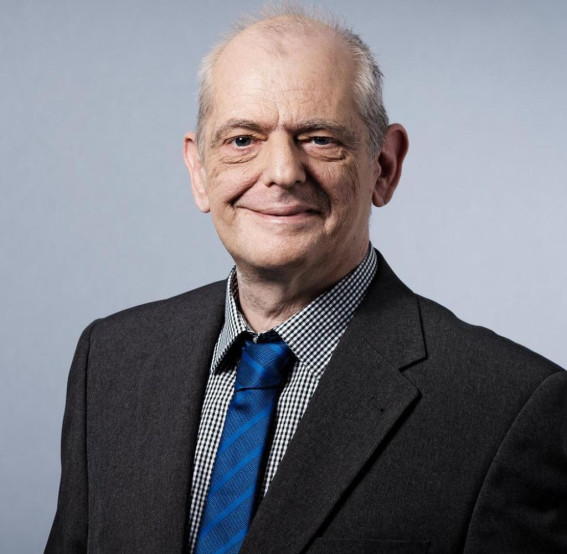 Dr. Richard Herzinger, born in Frankfurt am Main in 1955, lives and works as a journalist in Berlin. As an author, editor and political correspondent, he worked for "Die Zeit", the Berlin "Tagesspiegel," the Zurich "Weltwoche" and most recently for almost 15 years for "Die Welt" and "Welt am Sonntag". As early as 25 years ago, he warned of the resurgence of authoritarian and totalitarian powers and ideologies in his book "Endzeitpropheten oder die Offensive der Antiwestler," co-authored with Hannes Stein. He writes for numerous German and international newspapers and magazines, including a biweekly column for the Ukrainian magazine Український Тиждень (Ukrainian Week; tyzhden.ua). His site "hold these truths" (herzinger.org) regularly publishes analyses and commentaries on world events.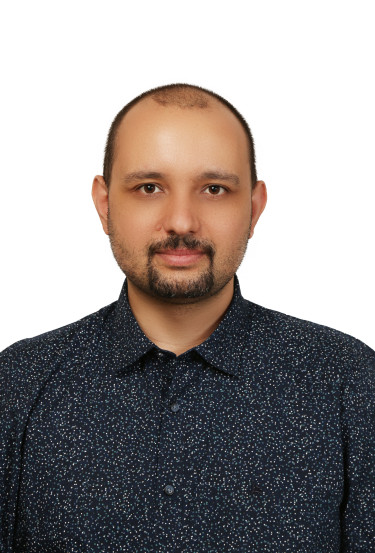 Patryk Szostak is the spokesperson and head of communication of the Pilecki Institute in Berlin, he appears regularly in Polish media analyzing German-Polish relations, international economics and politics, prior to his current role he worked for the Freedom Institute in Warsaw. Alumni of Aberystwyth University in Wales.