"OSINT Saves Ukraine - Hackathon" - Instytut Pileckiego
}
27.05.2023 () 10:00
"OSINT Saves Ukraine - Hackathon"
Workshop on Open-Source Intelligence.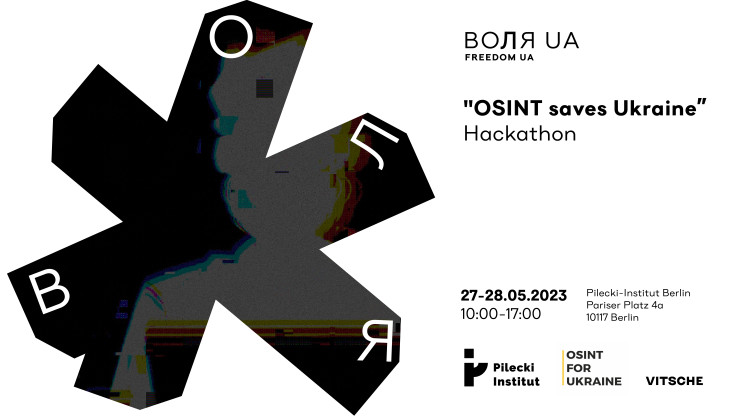 "OSINT Saves Ukraine - Hackathon". Workshop about Open-Source Intelligence.
27+28.05, 10.00-17.00 | Pariser Platz 4A, 10117 Berlin | Registration: https://docs.google.com/forms/d/e/1FAIpQLSfoMiEfqrxviNUxaAAP3SKkWQRQJssstz3fiB5UPNvafmTluw/viewform
Please bring your own laptop!
OSINT, which stands for Open-Source Intelligence, is an approach to gathering information and conducting investigations using publicly available sources. It involves collecting and analyzing data from a wide range of public channels, such as social media, news articles, online forums, government websites, and other publicly accessible platforms. Unlike classified or confidential information, OSINT focuses on information that is freely available to anyone.
Given the nature of the Russian full-scale war against Ukraine, OSINT has become a critical resource for journalists, researchers, oral historian, human rights advocates, and international organizations. It empowers them with valuable insights, supports evidence-based reporting, and contributes to efforts aimed at promoting transparency, accountability, and a better understanding of the war of aggression.
We are inviting you to visit a two day workshop on OSINT at the Pilecki Institute. Lectors will teach how to use various tools to identify and verify information.
Speakers:
Vasile Popa - Software Engineer and OSINT expert
Deniz Dirisu - Investigative Journalist and OSINT Analyst
Vyacheslav Kolomeets - OSINT expert and project manager.