"Revolution of Dignity" - a Lecture by Volodymyr Buehlov - Instytut Pileckiego
29.11.2022 () 18:00
"Revolution of Dignity" - a Lecture by Volodymyr Buehlov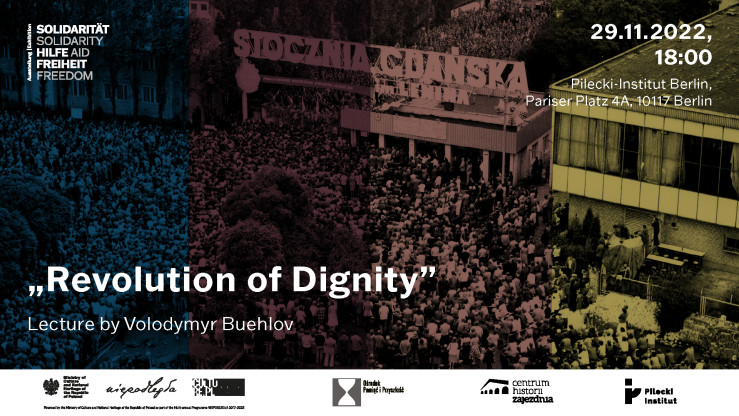 "Revolution of Dignity" - a Lecture by Volodymyr Byehlov
29.11.2022, 18:00 | Pariser Platz 4A, 10117 Berlin | Register here: https://forms.gle/QvPhM5fg6jvt2REf8
A few days before the summit in Vilnius, during which Ukrainian President Yanukovych was supposed to sign the Association Agreement between Ukraine and the European Union, the government announced that state priorities had changed. Prime Minister said that Ukraine is no longer interested in European integration. In the evening, journalist Mustafa Nayem, in a short post on Facebook, called on Ukrainians who disagree with such a drastic change to gather on Maidan Nezalezhnosti in Kyiv. This is how the Euromaidan began. In a few weeks, it will turn into the Revolution of Dignity.
Undoubtedly, Euromaidan and the Revolution of Dignity forever changed the history of both Ukraine and the entire Eastern European region. The events that began as a protest against the change in the state's civilizational course turned into the triumph of an entire nation that demanded respect for its Dignity. The Russian leadership, enraged by the victory of the Ukrainian people on Maidan Nezalezhnosti in Kyiv, is sending troops first to Crimea, and then to Donetsk and Luhansk regions. The eight-year Russian-Ukrainian war begins, which becomes full-scale on February 24, 2022. This war will forever change the face of Europe and the entire civilized world.
The Revolution of Dignity lasted for several months, the events on Maidan Nezalezhnosti during the three winter months were intense, bloody, and full of pain and violence. At the same time, during all this time, not a single shop window was broken in the center of the Ukrainian capital, representatives of all religious organizations, except the Russian Church, gathered on the stage of the Maidan for joint prayer, people from different regions communicated in different languages and understood each other. Men and women, who protected themselves with plywood shields, boldly went to meet the armed policemen to demonstrate: "You can't do this with us!" Even when the snipers started shooting people in the center of the Ukrainian capital, people were not scared. They stood both for their own Dignity and for the Dignity of their children.
Today's solidarity of the Ukrainian people, their resilience, courage, and bravery to resist a stronger enemy is often called the "Final Maidan". So, what is the phenomenon of the Ukrainian Maidan, and will democratic Ukraine be able to exist without such protests after the Victory over Russia?
America House Lviv Director, journalist, civic activist.
Founder and former Chairperson of Educational Center for Human Rights in Lviv. Co-founder of TheUkrainians Media and SKOVORODA online radio. Active participant of Orange Revolution and Revolution of Dignity in Ukraine. Co-organizer of "Jewish Days at the City Hall", "Psychotherapy for the City", "10 Friends of Equality" educational projects. MA in philosophy.